The word Amritsar means the holy pool of nectar. 1573 Work began on digging the holy pool. 1601 Harmandir Sahib completed. 1604 Guru Granth Sahib installed. Alongside people representing 52 professions settled. In Maharaja Ranjit Singh's time Amritsar had superceded Lahore as the pre-eminent city of the Orient.

Amritsar is one of the most ancient and fascinating cities of India. It is an important seat of Sikh history and culture. Being the gateway for travellers coming to India on the overland route from central Asia it soon became the centre of various commercial activities.

Amritsar has various historical and religious sites. The most famous of them all in the Golden Temple which was founded by the fourth Guru of Sikhs, Guru Ramdas and completed by his successor Guru Arjan Dev. Another revered shrine is the Durgiana Temple which is dedicated to goddess Durga.

Amritsar being an important trade centre is very well connected. There is a daily Indian Airlines flight to Delhi and Srinagar. Direct rail links to Delhi, Lucknow, Varanasi, and Calcutta are also there. There are frequent buses plying to Dehra Dun, Shimla, Kulu, Dalhousie and Dharamsala.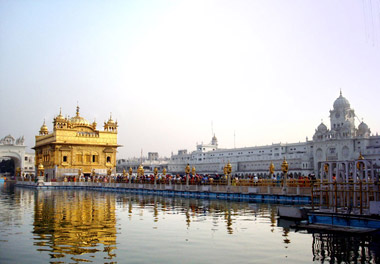 Golden Temple

During Maharaja Ranjit Singh's reign the lower half of the temple was decorated with marble while the entire upper half was inlaid with copper covered over by gold plate : hence its new name, the Golden Temple. Free kitchen and recitation of the divine word never cease here. Its four gates invite everyone from all directions.

Akal Takhat : Sixth Guru Sri Har Gobind had got it constructed as a seal of temperal authority symbolising the unity of spiritual and temporal life in 1609.

Tower of Baba Atal Rai : Built in the memory of Baba Atal Rai, son of Sri Har Gobind Ji, this octagonal nine-storeyed structure about 50 meters high has several beautiful frescos on its walls, relating to the life of Guru nanak Dev Ji.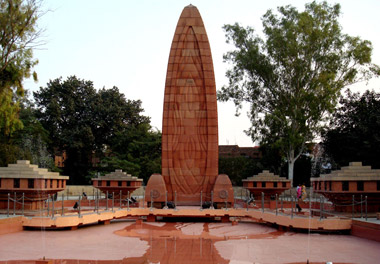 Jallianwala Bagh

Martyrs' Memorial built in the shape of eternal flame of liberty is situated on the outskirts of Golden Temple. Here, about 1500 to 2000 persons who were attending a peaceful meeting during the freedom movement fell under the bullets of the British General Dyer, on April 13, 1919. The British Queen Elizabeth II and her husband laid a wreath at the Memorial on 14 Oct.' 1997.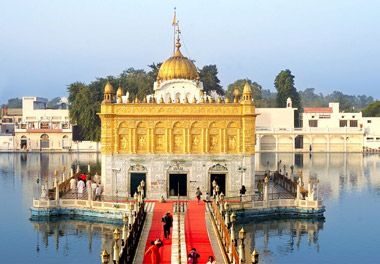 Durgiana Temple

Situated outside the Lohgarh Gate it is built after the design of the Golden Temple and attracts sages and scholars in Hindu scriptures from all over India.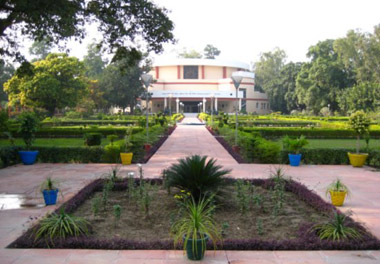 Summer place of Maharaja Ranjit Singh

Is situated in the middle of a beautiful garden called Ram bagh in Amritsar City. This garden is laid out on the pattern of Shalimar Bagh at Lahore. Only its architecturally unique 'darshani deorhi' has remained intact. A museum after the name of the Maharaja is set up here displaying oil paintings, miniatures, coins, weapons relating to the Sikh period.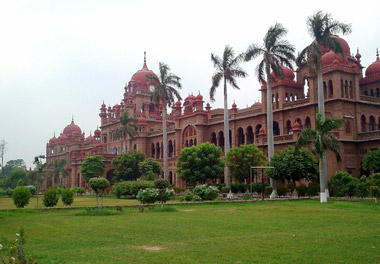 Khalsa College & Guru Nanak Dev University

Khalsa College, Amritsar was founded in 1892 and built on grand scale in typical Sikh architecture, its distinguished alumni; sportsmen, servicemen, administrators, professionals, fill up India's compilations of Who's Who. On a part of its land a new University called Guru Nanak Dev University was established at Amritsar. Soon it has become distinguished for starting modern curricula and has etched its name on the sports map of India.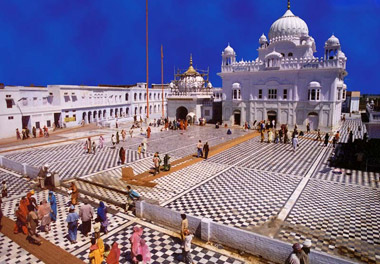 Goindwal Sahib

A few kilometers away from Tarn Taran is the town of Goindwal, where Guru Amar Das established a new centre for preaching Sikhism. A 'Baoli', well paved with 84 steps was constructed here. The devout believe that by reciting Japji Sahib, the divine 'Word' revealed to Guru Nanak Dev Ji at each step after taking a bath in the Baoli provides 'Moksh', liberation from 84,000 cycles of life of this world.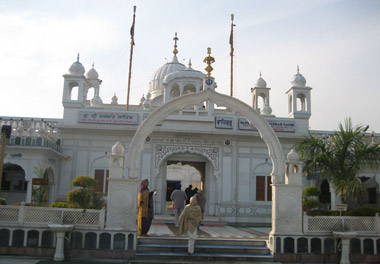 Khadur Sahib

Khadur Sahib is 32 kms. south-east of Amritsar city and close to Goindwal. During the life of the second Sikh Saint, Guru Angad Dev, it was the centre of Sikhism.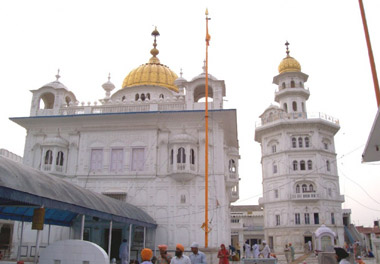 Baba Bakala

Situated about 45 kilometers east of Amritsar on the Batala road. Sri Guru Tegh Bahadurji, revealed himself to Makhan Shah Labana, a Sikh devotee here. It has a magnificent Gurudwara where people gather in thousands on every amavas (moonless night) and an annual fair is held on Raksha Bandhan day (night of full moon in August) when about one lakh people visit the place.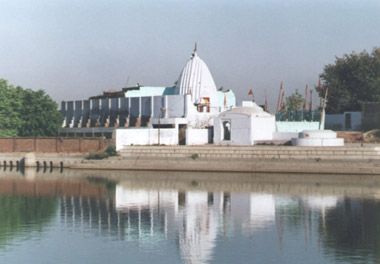 Ram Tirath

16 Kilometres west of Amritsar on Choganwan road is Ram Tirath, commemorating Maharishi Balmik Ji's heritage.Also the birth place of Luv & Kush ,the two sons of Lord Rama. A big fair now recognised nationally and lasting for four days is held here since times immemorial on every Kartika Puran-mashi (full moon night in November).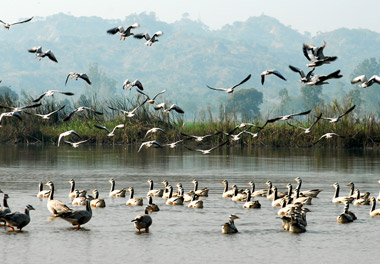 Harike Wetland

The lake formed at the point of confluence of rivers Beas and Sutlej at Harika ford, situated mid way between Amritsar and Ferozepur was declared a national wildlife sanctuary in 1982. It is a welcome winter home to about 350 odd species of birds from far flung lands of China, Siberia, Afghanistan and Pakistan.